Installing WordPress Locally using WAMP Server
If you would like to use the self-hosted WordPress blog platform using a paid web hosting service, but do not have experience installing web-based programs and want to save money in the event that it is not needed, it can be tried out before purchasing a monthly service. Installing WordPress locally has a lot of benefits for beginners and for those who want to learn more about the blogging platform without modifying existing files on a live installation. This guide shows you how to install WordPress on a Windows operating system using WAMP (Windows, Apache, MySQL, and PHP) to use the software as if it was on a web host.
Downloading and Installing WAMP Server
Download the latest version of WAMP from the WAMP website. The package contains up-to-date versions of Apache, MySQL, and PHP 5 that are required to run WordPress. After downloading the package, begin the setup by clicking on the installer and follow the on-screen instructions. After the installation is complete, you can now add HTML and PHP files within the "www" folder, normally located on the root of the hard drive under "C:\wamp/www" where the "C" can be changed to the drive where WAMP was installed.
Using WAMP
After installing WAMP, you will have a working localhost server. The local WAMP page can be accessed by typing "http://localhost" or "http://127.0.0.1″ in the address bar in the browser. The WAMP page shows basic information on installed addons and shows shortcuts to access the PHPMyAdmin interface to manage MySQL databases. Also by using WAMP, PHP files from the hard drive can be viewed properly in a browser; unless WAMP is installed, PHP files cannot be viewed the same way as viewing a HTML document elsewhere on the drive.
Installing WordPress
Once the WAMP installation is complete, it is time to install WordPress. Download the latest version of WordPress from the official website. After the download is complete, extract the "wordpress" folder in the "www" directory. This is where all website projects using WAMP is stored; the files outside of this folder cannot be displayed when viewed with the browser.
Before proceeding with the installation, a MySQL database needs to be created. Using PHPMyAdmin, create the database using the form on the main page using a unique name; remember this name for the WordPress installation. Since WordPress is being used for the first time, there is no need to create a database password on a localhost, but a password is required on the live website.
With the web browser open, go to "http://localhost/wordpress" and follow the on-screen instructions to begin the installation process. When creating the wp-config.php in install program enter
Database name
User name can be root or the name you gave when creating the database.
Password leave it blank if root is used as username
or enter password you used when creating a user for database.
You can leave rest as is and click create and follow instructions of install program.
After finishing the installation, you now have a copy of WordPress installed locally to use before going live on a paid hosting service. Using local WordPress installations is also useful for advanced WP users for testing plugins and themes. Once you are familiar with WordPress, you can choose to install WordPress the same way during the WAMP installation or with One-Click scripts such as Fantastico with web hosts that use cPanel.
The videos will walk you through on installing Wamp Server and install wordpress so that you can practice using all features of wordpress and Video Tutorial will teach you how to use admin panel.
This are the changes you will need to make in three files so that you are not timed out while working on a Wamp Server. You will need browse to Wamp folder on the drive you installed server.
Using text editor like Notepad++ (free to Download) you will makes Changes in
C:/wamp/bin/apachie/Apache2.2.17/ bin/php.ni
Search and change values
post_max_size = 750M
upload_max_filesize = 750M
max_execution_time = 5000
max_input_time = 5000
memory_limit = 1000M
and save file
in apps config
C:\wamp\apps\phpmyadmin3.3.9/config.inc.php
add
// maximum execution time in seconds (0 for no limit)
$cfg['ExecTimeLimit'] = 300;
and save the fill In
C:/wamp/bin/apachie/Apachie2.2.17/conf/httpd.conf
enable mod_rewrite by deleting # on line 116 and save the file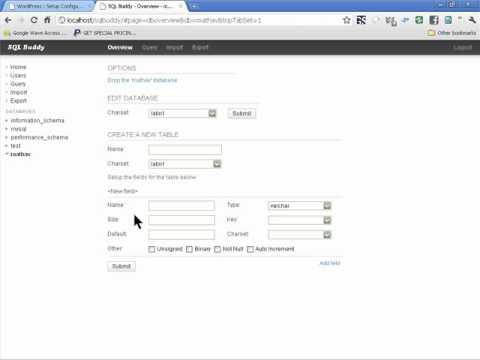 How To Install WordPress On Wamp Server
I am Author/Publisher WordPress Coach and Consultant who enjoys writing tutorials and support and help wordpress users build better WordPress website/blog.
Read Testimonials
Latest posts by Govindji Patel (see all)
Please Leave a Review
We would like to thank you for Visiting our website . Your opinion is important to us. We would like to invite you to write a review about your experience Select Number of Stars for the review and write review in box and Click on Connect Preferred Button.
How To Install Wamp Server On Computer And Make Changes To Files
27 Responses to How To Install Wamp Server On Computer And Make Changes To Files